Please be advised that this site is not optimized for use with Microsoft Internet Explorer 6.
Our Businesses
At Citi, we get to connect millions of people across hundreds of cities and countries every day. And we've been doing it for more than 200 years.
We do this through our unparalleled global network, with a physical presence in 95 markets serving clients in more than 160 countries and jurisdictions. We provide a broad range of financial services and products to our clients – whether they be consumers, corporations, governments or institutions – to help them meet their biggest opportunities and face the world's toughest challenges.
Explore our businesses and learn more about what it's like to work at Citi.
---
Citi Businesses By the Numbers
Connecting millions of people across hundreds of countries and cities
2021
$22.0B

net income

$71.9B

revenues

RETURNED NEARLY

$12.0B

IN CAPITAL TO OUR COMMON SHAREHOLDERS
Leading bank with 200+ years of experience
---
Five Interconnected Businesses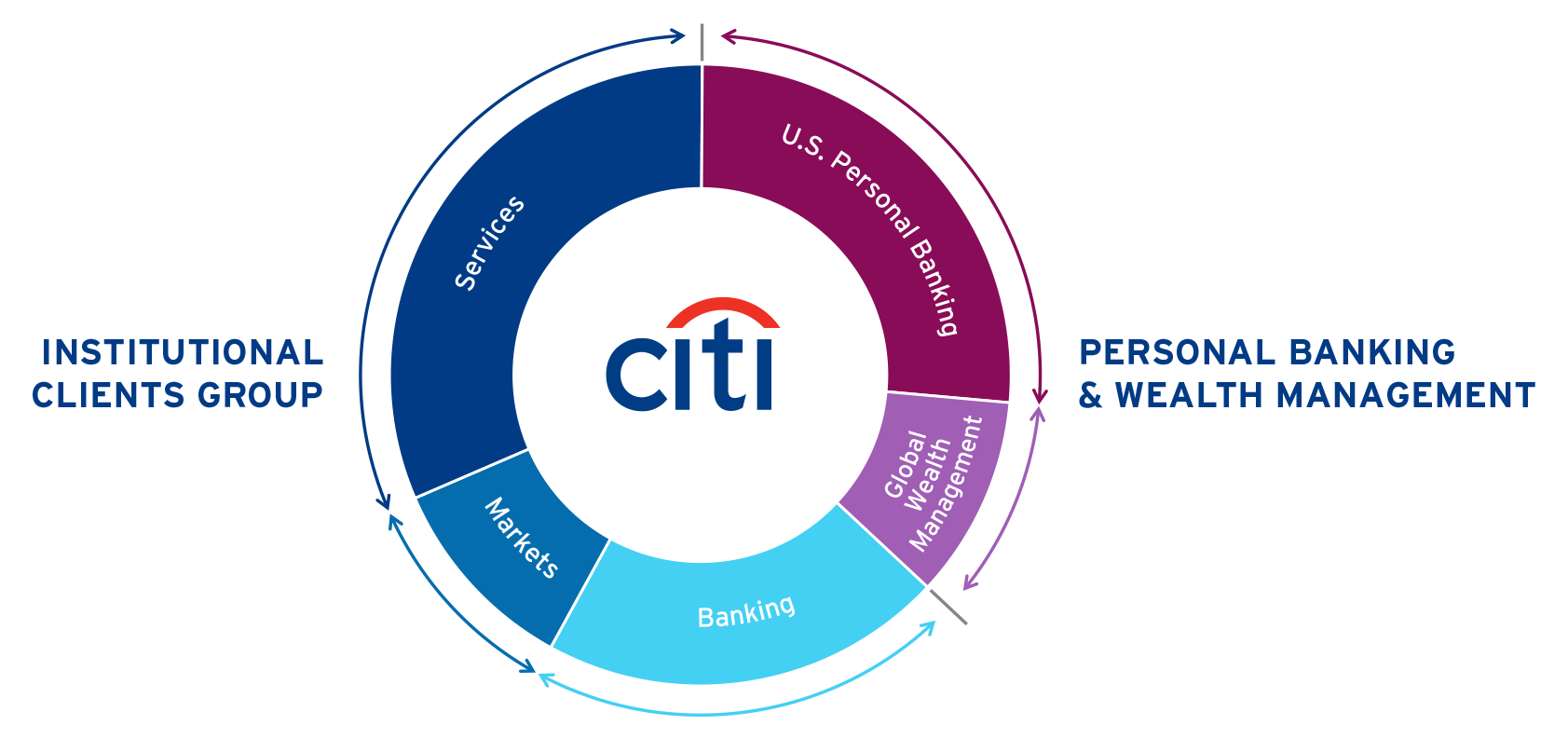 Institutional Clients Group
Services
Treasury & Trade Solutions (#1) Securities Services (#4)
Drives network value
$300+ billion wallet; sticky relationships
Invest for continued leadership; grow with new client segments
Markets
Markets (#4) Fixed Income (#2) Equities (#5)
Maintain leadership in FICC; continue to grow Equities
Emphasize profitability
Maximize linkages across ICG
Banking
Investment Banking (#5) Corporate Banking Commercial Banking
High-returning, capital-light Investment Banking business; elite Corporate Bank
Extend growth momentum with focus on new economy companies
Grow the Commercial Bank
Personal Banking & Wealth Management
Global Wealth Management
Citi Private Bank (#5) Wealth Management (#3 in Asia)
Strong foundation; differentiated international business
Leverage existing leadership position in the Private Bank and Asia Wealth
Scale to focus on full wealth spectrum
U.S. Personal Banking
Branded Cards (#2 in U.S.) Retail Services Retail Banking
Refocused strategy
Serves 72 million customers
Affluent retail clients that feed Wealth business